The First United Methodist Church of Arroyo Grande Celebrates 125 Years of Ministry
Rock founded, Christ centered, Faith sustained
Crosses of the Church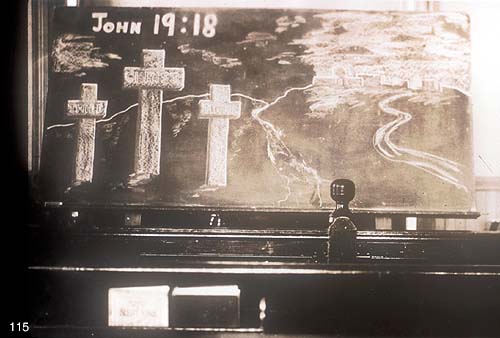 Chalk Crosses in the Village
. In 1931, E. J. Bradner was all for better cooperation among the churches. He started the Sunrise service. Cora Wright did chalk pictures (pictured above) while he was giving his sermon.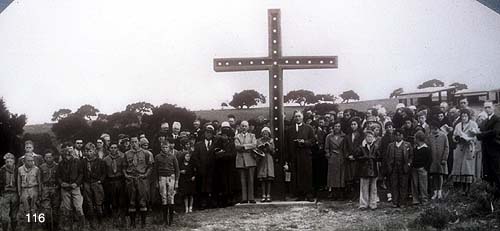 Cross at the Camp
. In 1933 Joseph S. Gibson erected the cement cross whose lights (20) have shown over the valley at Easter and Christmas from the hill above the tabernacle (until the wiring succumbed to the weather). He made the forms at home but Clair Gibson and Loren Ballagh remember carrying the water, etc. up the hill from the swimming pool area, while their fathers mixed and poured the concrete. They are listed as "slaves" on the back of the photo. The minister is E. J. Bradner. This is the dedication.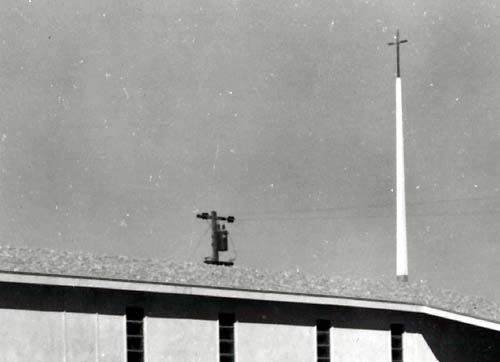 Halcyon Steeple Crosses
. While probably not the exact same spire/steeple, the cross (pictured above) that adorned the original sanctuary (now Criswell Hall) on Halcyon looks remarkably similar to today's cross directly above today's sanctuary (below).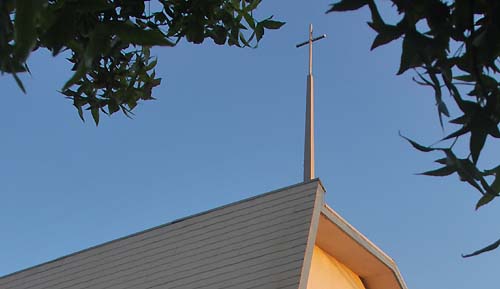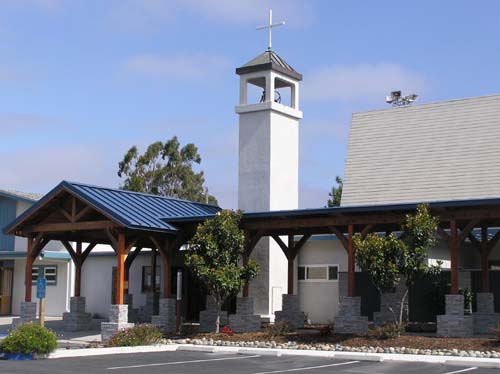 Bell Tower Cross
. Construction of the new bell tower and cross began in late 1999 and the dedication service was held Sunday, February 6, 2000 (despite a week of rain and threatening weather).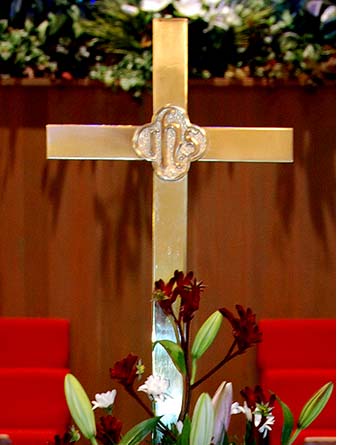 Altar Cross
. The "IHS" on today's altar cross is one of the most common Christograms, derived from the first three letters of the Greek name of Jesus, iota-eta-sigma.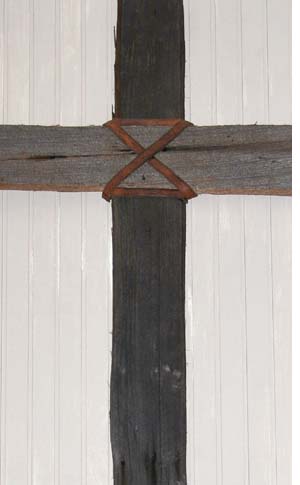 Barnwood Cross in Criswell Hall
. The cross on the stage in Criswell Hall was built by Craig Smithback in the Spring of 2004 from old barnwood from the Teixeira "1000 Hills Ranch" along Price Canyon Road. Susan Coho asked him to do it as she was preparing to lead a joint Calvary Chapel/UMCAG Women's Bible Study group that would meet in Criswell Hall.
See
Cross Sunday
, August 16, 2009.