Arroyo Grande United Methodist Children's Center
Welcome to AGUMCC!
We are so glad you are interested in our program. We hope this information will assist you in determining if our school is the "right fit" for you and your child. We offer a toddler and preschool program that values and nurtures a child's individual development while fostering family relationships. Please call our office to schedule a tour. We will be happy to show you what we have to offer.
Announcements
New School hours: 7:00 am. to 5:30 pm starting July 1, 2013.
It is time for AGUMCC's Annual Registration for the next year-round session, July 1, 2013 to June 30, 2014. Registration for our current families is due by April 10, 2013 to hold their child's spot for the next session. Enrollment registration for the next session for families on our "waiting list" starts on April 15, 2013. Enrollment registration for the next session for the public starts on May 1, 2013.
AGUMCC Open House is Thursday, April 11 at 7:00 to 8:00 PM. There will be a spaghetti dinner hosted by the First United Methodist Church Sunday school staff. Dinner will be from 5:45 to 6:45 in Criswell Hall and the cost is $5.00 a plate. Following dinner, there will be a welcome to kick off our Open House, an overview of up coming events, and registration information. Families, friends, and the community are invited to attend this event. This is a time for the staff to share the importance of the play, exploration, and learning that occurs, each day, at our center. In addition, you will have an opportunity to see the many learning activities and areas of interest both in and outside the classroom. Photos...
Children Center Sunday April 14, 2013. Children of the preschool will sign at the 10:30 service during the children's moment. Children's Art Show and Ice Cream Social with homemade goodies 11:30 -12:30 in Criswell Hall.
Thank You to the Boy Scouts!
Thank you to Daniel Stuart, Jed Moore, and Casey Johnston Construction: details
Hallmarks
NAEYC Accreditation In Process
Environmental Rating Scale: 6.3 (of 7)
Desired Results Developmental Profile (DRDP)
Low Child/Teacher Ratios: 4:1 Toddler, 6:1 Preschool
Advocate for Your Child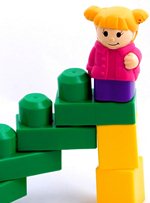 Community Helpers
Many thanks to these exceptional people and organizations that "share their world" with our children. Details...

Here's who's visiting: February 2013
Parenting with Positive Discipline
March 5 - April 16, 2013
Every Tuesday night, 6:30pm - 8:30pm (7 sessions). This positive discipline series is based on best seller book "Positive Discipline" by author Dr. Jane Nelsen. The classic guide to helping children develop self-discipline, responsibility, cooperation and problem-solving skills. The series will be led by Maddy Quaglino and Kristel Kardashian, certified positive discipline educators. Visit us for more information, call 481-2223, or email: agumcc@sbcglobal.net.
Details and Registration Form (PDF)
.
What parents had to say about the Positive Discipline Book series: "I really appreciated how the instructors showed how to implemented the strategies with the kids and what to say." "I really like the suggestions, life experiences, and the patience that you have shown." "I wish we had more time."
What they liked most about the experience? Sharing as a group.
What parents said was the most valuable thing they gained from the series: Support. Real life solutions. Specific words to say in situations. To be patient. A plan to move forward. Ability to defuse tension. Self-control. Validating of feelings. The use of tools without punishment. Specific strategies presented in the book and then reinforced during class.
Join Escrip
It's an easy way for you to activate donations to the Children's Center from merchants that you do business with anyway. Details...
Newsletters
AGUMCC offers two monthly newsletters: Children's Center Chronicle, and Early Years Monthly. Both can be found on the Newsletter Page.
Parent Survey Results
2010 Spring Results...
2011 Spring Results...
2012 Spring Results...
2012 Fall Results...
Mission, Foundation, Principles
Click here.
Our Goals for Children
To increase a healthy self-esteem by providing a nurturing environment for growth and development.
To promote the child's self-direction, and encourage them to take responsibility for their actions.
To help children achieve a solid foundation for future academic success.
To help children develop an ability to express needs to others.
Care for others and respect people's space, body, and feelings.
To develop a concept of a healthy nutrition.
To learn that each child is valued by family, teachers, peers, and God.
To provide a safe environment for children.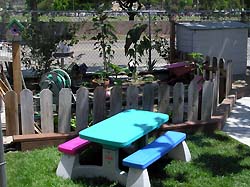 Toddler Schedule
*7:30am - 8:30am Early Birds
For children who arrive before class begins. The group plays indoors, and in the courtyard.

8:30am - 9:00am Arrival Time

8:30am - 12:00pm Morning
Your child may participate in free choice, art. sensory, snack, song, story and outside play.

12:00pm - 12:30pm Lunch
Pack your child a healthy lunch and they will enjoy eating with other toddlers.

12:30am - 3:00pm Napping
Children bring their own bedding for nap and participate in our full day program.

3:00pm - 3:30pm Pick-up Time

*3:30pm - 5:30pm Stay & Play
Children read books, free choice activity, have a snack, and enjoy inside and outside play.

*May be added to daily schedule for a fee.
Preschool Schedule
*7:30am - 8:30am Early Birds
For children who arrive before class begins. The group plays indoors, and in the courtyard.

8:30am - 9:00am Arrival Time

8:30am - 12:00pm Preschool
Every child attends morning class and is offered a chance to participate in art, free choice activities, snack, group time, with play time in the courtyard and backyard.

12:00pm - 1:00pm Lunch
Parents bring a nutritious packed lunch for their child. Children eat with their teacher followed by stories and potty.

1:00pm -3:00pm Nap / Rest Time
Children bring their own bedding. Rest is for one hour followed by quiet indoor activity then outside play in the backyard.

3:00pm - 3:30pm Pick-up Time

*3:30pm - 5:30pm Stay & Play
Children wake from napping, read books, free choice activity, have a snack, and play outdoors.

*May be added to daily schedule for a fee.

The play yard that faith built: