Open Hearts, Open Minds, Open Doors
Please join us on this journey. More...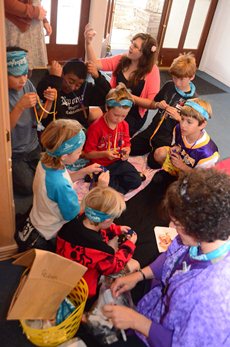 Current Activities
May 15: ELT Scholarships, applications due (Form)
May 18: UMM Camp Work Party
Jun 1: Carl Kliesch Memorial Golf Tournament
Jun 2: Music Sunday
Jun 9: Youth Sunday
Jun 15: All-Church BBQ
Jun 17-21: VBS: "Athens - Paul's Dangerous Journey to Share the Truth"
Oct 18-20: Rock the Block Weekend, details...

ELT Scholarships
The ELT Memorial Scholarship is awarded each June to graduating high school seniors and continuing college students. The application deadline is May 15th. Click here for an application (PDF).
Children's Center - Escrip
Check out Escrip, an easy way to help the Children's Center raise money. Details...
All Events/Activities...
List and links to events past and future, including pictures and stories from some.
Email Announcement List
Sign up at the bottom of the About page to join the church's email announcement list.

Pictured at right is part of the garden and play yard for the Children's Center.
Contact
First United Methodist
Church of Arroyo Grande
275 N. Halcyon Road [Get Map]
Arroyo Grande, CA 93420
(805) 481-2692
(805) 481-2693 FAX
fumcag@sbcglobal.net