The First United Methodist Church of Arroyo Grande Celebrates 125 Years of Ministry
Rock founded, Christ centered, Faith sustained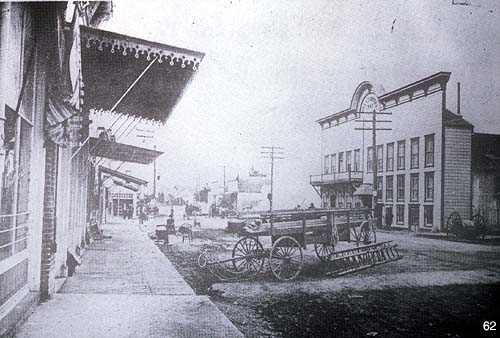 In 1892, A. M. Ogborn was pastor. He was always ready to fight the saloons and liquor. One Sunday evening during the preaching service a man under the influence of liquor entered the church and caused some disturbance. Mr. Ogborn stepped down from the pulpit, walked down the aisle, took the man by the coat collar and as they went through the door and down the steps there was a noisy rattle. Mr. Ogborn returned and finished his sermon as though nothing unusual had happened. In this scene of Arroyo Grande, six establishments sold liquor, providing him with much material for his sermons. During his stay, the camp grounds were being used for tent meetings.
A grandson of Ogborn's visited the camp in 1977 and supplied a bit more information. His grandfather had died of scarlet fever in 1907 leaving a family of two for his grandmother to raise. She was a widow for fifty-five years, reaching her 101st birthday before she died in 1963.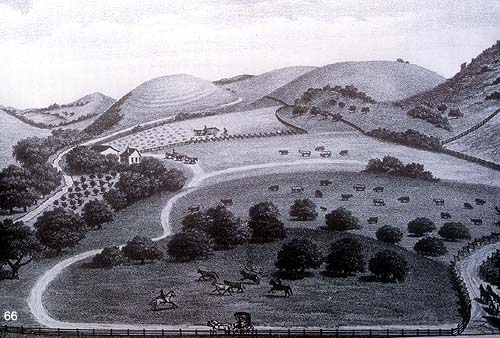 This early litho shows the Daniel Henry ranch. The Henry's had just missed being charter members.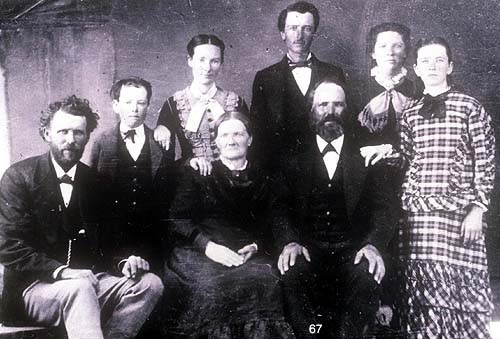 Here is Daniel surrounded by his brood - now married into the Fowler family. The tall young man in the background is Amos Henry. He married Rilla Young. She brought him into the fold. A stalwart member he was, even though his language sometimes startled the gentler souls.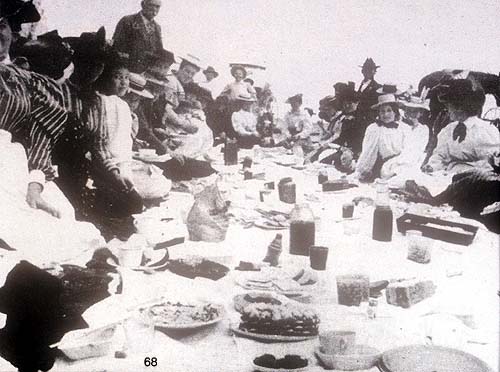 The church had many social activities both as a church and later in connection with the camp. Here are some 1890's beach picnics...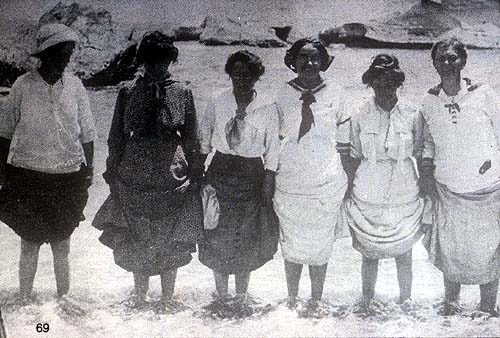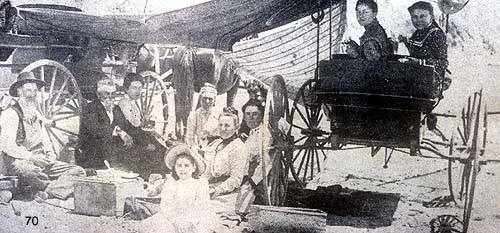 There were hay rides, including hay rides to the beach, as well as Christmas caroling.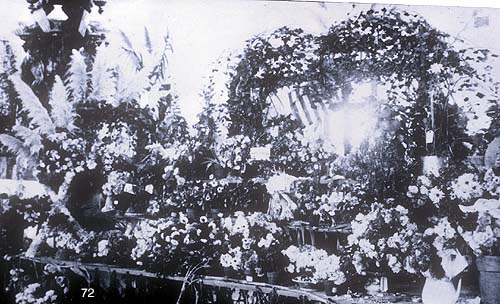 Sweet Pea decorations were spectacular. Mr. Routzhan gave the sweetpeas, alternating years with the churches. Each tried to outdo the other in artistic displays.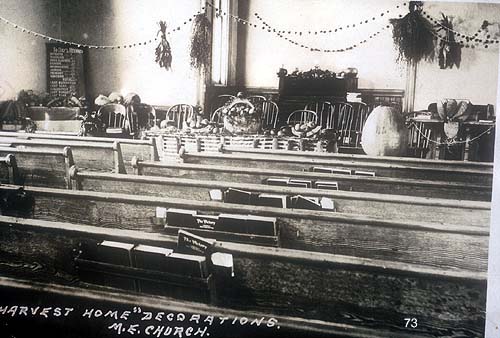 This postal card was called "Harvest Home". The church was decorated for every season for every reason.
Most special occasions were also celebrated with parades.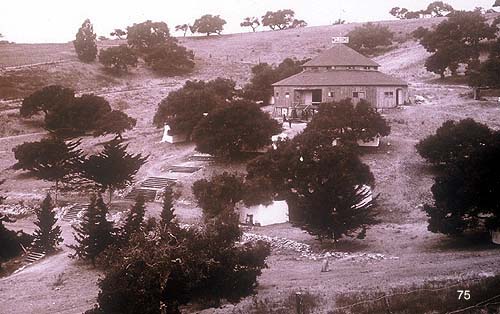 1895-1898, C. H. Lawrence served here. He was a man with a splendid bass voice, who was always prepared with a fine solo if the choir did not have an anthem ready. Long considered a good way to enlarge the flock, the camp meeting was a natural here. C. H. Lawrence probably held meetings in the oak-studded canyon just north of the church property.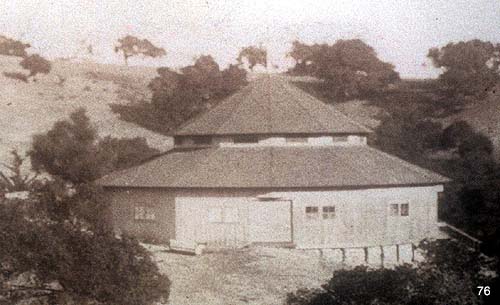 In 1897, John Beckett's donation of 15 acres, for a camp and tabernacle, the church added 15 acres. In accepting Beckett's gift, the church agreed to raise $1000 and make improvements. Here stands the new tabernacle, saw dust down, waiting for a meeting where fire and brimstone would be preached from her pulpit.