The First United Methodist Church of Arroyo Grande Celebrates 125 Years of Ministry
Rock founded, Christ centered, Faith sustained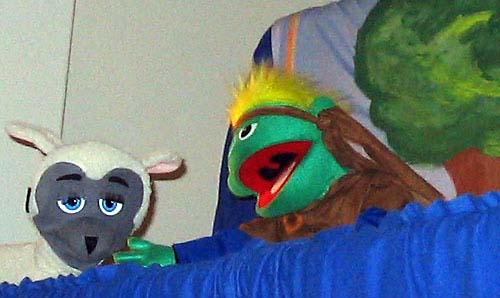 The Puppets
(as of 1996)
Quimper's Corner
Mr. Quimper operates a soda fountain frequented by a number of kids: Priscilla, Skip, Herb, Bernie, and Bernie's dog, Saint. The kids and Mr. Quimper get wrapped up in all manner of stories from which there is invariably a lesson to be learned.
The Innova Family
Mr. Wanco, Vinnie, Hugh, Felicia, and Beamer are the teenage version of the Quimper characters. Their escapades might remind one of a youth group - scary, isn't it!
The Animals
No puppet family would be complete without some animals. In addition to Saint, the dog, from Quimper's Corner, this troupe includes a donkey, a lamb, and a lion. All but the lion had starring roles in the Christmas production of "The Littlest Shepherd," as did most of the Quimper and Innova group.
Create-a-Puppet
That leaves one unnamed puppet that is our quick change artist. In fact, everything about him or her can change: eyes, ears, nose, hair, etc. With a little additional costuming help, this puppet played Akbar, the mouse, in "The Littlest Shepherd."