Open Hearts, Open Minds, Open Doors
Please join us on this journey. More...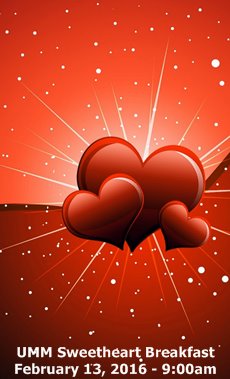 Current Activities
All-Church Work Days: Wednesdays at 9am

Feb 13: UMM Sweetheart Breakfast, 9am
Feb 14: Sunday School "Be Mine, Valentine" Event
Feb 17: JOHN: The Gospel of Light and Life, adult study, Wednesdays, 5:45pm, 1st of 6 sessions
Feb 21: Staff Recognition Sunday, potluck follows 2nd service
Feb 26: Children's Center's Pizza and Rain Gutter Regatta Races, 6:30pm, flyer
Feb 28: New Member Welcome Luncheon, following 2nd service
Mar 12: UMW's Workshop on People with Disabilities
Mar 13: Daylight Savings Begins, 2am
Mar 16: John Elmore, missionary visit to share about his work in Chile
Mar 27: Easter Sunday
Apr 17: UMM Annual Taco Buffet, 10:45am to 1pm

OPEN: Youth Director
We are searching for a Youth Director. Contact the church office for details and to apply.
Children's Center - Escrip
Check out Escrip, an easy way to help the Children's Center raise money. Details...

Labels for Education
Campbell's Labels for Education
Clip and Earn FREE STUFF For Our Church PreSchool

All Events/Activities...
List and links to events past and future, including pictures and stories from some.
Contact
First United Methodist
Church of Arroyo Grande
275 N. Halcyon Road [Get Map]
Arroyo Grande, CA 93420
(805) 481-2692
(805) 481-2693 FAX
fumcag@sbcglobal.net